Tile Flooring in Utica, NY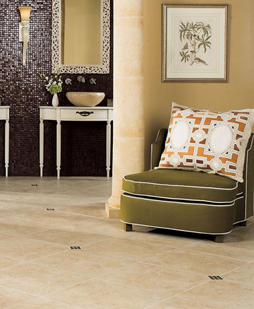 Bring the natural beauty of stone into your rooms by shopping at our store for tile flooring in Utica, NY. Tile is one of the most highly sought-after flooring materials on the market, making it a great choice for both homes and businesses. We are proud to offer a large selection of tile products from trusted brands. Visit our showroom to begin exploring the many flooring options available to you.
The Benefits of Choosing Tile
Invest in your property by choosing a surface that is sure to look great throughout the decades. Tile is noted for its durability, stylishness, and longevity. Once it is properly installed, it is very difficult to damage or even stain. Whether you choose ceramic tile flooring, porcelain, natural stone, or another option, you can rest assured knowing that your floor will continue to impress long after installation. If something does happen to one of the tiles, you can easily replace just the single affected tile instead of the entire surface.
Tile is also easy to clean. Simply sweep or mop it regularly to keep it clear of dust and crumbs. When something is spilled on your floor tiles, all you need to do is wipe it up as soon as possible. Since tile is resistant to water damage, it works well in wet areas like kitchens, bathrooms, and laundry rooms. Certain types of tile can even withstand inclement weather, making them perfect for outdoor features.
Finally, porcelain tile and all other tile types offer a unique beauty that cannot be matched by other materials. Tile comes in a wide array of materials, including porcelain, ceramic, marble, slate, natural stone, and so on. Each of these options comes in many different colors, patterns, and textures. No matter what kind of design aesthetic you are looking to achieve in your rooms, there is a tile product for you.
Professional Assistance from Selection to Installation
We are here to help you at every stage of your new flooring project, from product selection to tile flooring installation. When you visit our showroom, our team members are there to help you find the ideal surface for your home or business. Talk to our staff for recommendations and in-depth information on specific products. We are also happy to discuss financing options.
After you have chosen your new floor, our installers are ready to go to work. It is important to install tile correctly to ensure it looks great and will last its full lifetime. That is why we offer installation by our team of certified experts.

Contact us to learn more about our tile flooring products and the services we offer. We proudly serve clients throughout Utica, Clayville, Clinton, Frankfort, and Herkimer, New York, as well as the surrounding areas.