Laminate Flooring in Utica, NY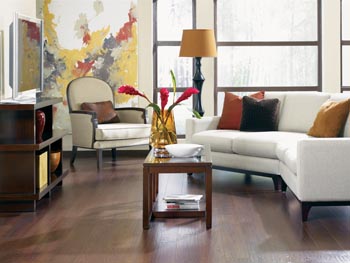 What is the ideal flooring material for your home? Ask our design and flooring professionals to guide you in discovering which floor coverings fit your lifestyle requirements and design preferences. When you want cost-effective flooring that is attractive and offers easy cleaning and maintenance, we recommend laminate flooring in Utica, NY from Enjem's Flooring America.
This flooring option is made by manufacturers to meet the needs of homeowners. It cost less than high-end floor coverings, comes in styles that mimic tile, stone, and hardwood flooring, and is easy to take care of. To protect your investment and ensure the beauty and longevity of your new surfaces, choose our laminate flooring installation services after you have made your purchase.
Professional installation is what makes the difference between flooring that lasts for many years and surfaces that are quickly and easily damaged. Let us schedule a convenient time with installation technicians who are experts at what they do.
Flooring That Is Manufactured to Meet Your Needs
Laminate floors are manufactured to answer the needs of today's busy households. It consists of four layers for beauty and strength. On the very top is a clear protective layer that allows you to see through to the design layer. This layer has a high-quality digital photo of a piece of tile, stone, or wood, which explains why laminate is so realistically beautiful. Next is a core layer that stabilizes the flooring with a moisture-resistant backing underneath it all.
The layered construction, and in particular, the moisture-resistant backing, is the reason that laminate can be installed in any room of your house, even the basement, bathroom, and kitchen. Talk with our sales and design professionals about how laminate floors are perfect for your home remodel.
Natural Realism of Laminate Tile, Stone, & Wood
High-end flooring materials, such as ceramic or porcelain tile, natural stone, hardwood, and carpet flooring are much in demand. Many of our customers want these in their homes. However, some want the look of tile, stone, or wood, but prefer a lesser price and reduced upkeep. The solution is easy--laminate flooring.
The gorgeous details that make these flooring surfaces so desirable are available in laminate. You can see the flecks in the tile, the whorls in the stone, and the grain in the wood. In fact, laminate looks so real that is difficult to tell the difference. Come into our showroom and ask to see the following brands of this remarkable flooring:
Floorcraft
Mannington
Mohawk
Shaw

Contact us today to see the beauty of laminate tile, stone, and wood flooring for yourself. We proudly serve clients throughout Utica, Clayville, Clinton, Frankfort, and Herkimer, New York, as well as the surrounding areas.