Hardwood Floors in Utica, NY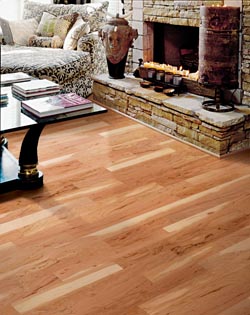 Improve the value and appeal of your home by investing in high-end hardwood flooring. When old and outdated flooring begins to detract from the beauty of your home, it is time for replacement. The professionals in our flooring showroom are committed to making home improvement projects such as a hardwood flooring installation easy and enjoyable for you.
Classic and timeless hardwood remains one of the most coveted flooring options available. Its proven reputation for beauty and durability makes it a great choice for any workspace or home. No matter what species, stain, color, or finish you are looking for, you are sure to find it among the impressive inventory in our showroom.
The two main types of wood floors we offer are solid and engineered hardwood flooring. As well as different types of hardwood floors, we carry a wide variety of species, colors, sizes, and brands. We are proud to provide you with hundreds of options to choose from. With such a wide and varied selection, you are sure to find just the right hardwood floors for your home.
Have You Considered Engineered Hardwood Flooring?
Get the look of luxurious hardwood for a budget-friendly price with engineered hardwood floors. This type of wood flooring offers a perfect alternative for homeowners on a budget. Each engineered plank is manufactured using layers of wood materials. The top surface is actually a thin layer of the wood species of your choice, providing the natural look and feel that you desire.
The remaining layers are made of high-density fiberboard that are bonded together to make an extremely solid and sturdy type of flooring. This flooring does not react to high levels of humidity so does not expand or contract as does solid wood. Because of this, you can install engineered wood floors in any room of the house. This includes rooms with high moisture content, such as the basement, bathroom, or kitchen.
Engineered hardwood flooring is quickly growing in popularity. This flooring is as practical as it is stylish. It offers installation versatility, resistance to moisture, enhanced stability, and cost-effectiveness. Count on us to take a number of considerations into account when helping you choose the ideal wood product for your home. Depending on placement location, we may recommend engineered plank over solid wood. If we believe that solid wood may warp or swell in particularly humid areas, then engineered wood may be a more practical choice.
Another merit of engineered wood floors is their environmental friendliness. Less wood is required to make engineered wood, so that this flooring offers a green option for homeowners.


The Benefits of Traditional Solid Hardwood Flooring
Whether you choose engineered or solid wood flooring for your home, you can still expect impressive results. Both appealing options we offer are capable of elevating interior designs and improving overall property values. One of the major benefits of solid planks is their enduring resilience and ongoing appeal and style.
This type of flooring is timeless and works wonderfully with all decorating styles. Of course, solid wood complements Victorian, rustic, and traditional homes, but it also works well with modern, craftsman, or bungalow styles. Then, too, there are variations in width of the planks, from narrow strips to medium-sized planks. In addition, a new trend is to use very wide planks that mimic the look you would find in homes of a hundred years ago. Ask our flooring specialists to show you samples so you can choose the solid wood size that best suits your space.
Whatever style home you have, hardwood is renowned for its elegant appearance and unrivaled longevity. After years of wear and tear, you have the option to refinish old planks, effectively lengthening their lifespan. In fact, with proper maintenance and attention, your hardwood floors may last as long as 100 years.
All of the attractive wood species we carry offer the same restorative beauty and durability. In our extensive inventory, we carry a number of both domestic and exotic species that include the following:




Choose from Countless Hardwood Flooring Styles
Make a flooring purchase with the utmost confidence by shopping in our showroom. The knowledgeable associates we employ work closely with clients throughout the process of selection, educating them about the many hardwood flooring products currently available. Their extensive product knowledge allows this team to address all questions and concerns regarding your favorite hardwood styles. From appearance, to performance, and even price, you can depend on us for wood floors that satisfy in all respects. Not only will your new flooring perfectly complement existing décor and paint, but it will also withstand the activity of family, friends, and pets.
That handsome sheen, rich character, and enduring beauty of hardwood is readily apparent in the brand names we carry in our showroom. Our store insists upon the best brand names from respected manufacturers. Brands are much preferred over generic flooring for quality and longevity.
Manufacturers invest time and money on brands that carry their name. They have done much to improve the quality and appeal of these styles. Plus, brands are known for offering the latest flooring styles, trends, and colors. Talk to our flooring professionals about the merits of different brands so that you can choose the brand that best meets your needs. We carry the following brands of hardwood flooring in our store:
Hardwood Flooring Installation You Can Trust
Our commitment to your satisfaction does not end when you make a purchase. We continue to provide clients with exceptional service by offering hardwood flooring installation. Our team of installation experts completes even the most comprehensive jobs with speed and skill. In fact, we are so confident in the work of our technicians that products and installations are backed by guarantees unparalleled in the industry.
We realize that hardwood flooring is an investment in your home. That is why our professionals recommend professional installation. Preparing the sub-flooring properly and installing planks with care and precision is essential to safeguard the flooring. In addition, our installation technicians make sure the flooring adheres securely so that is does not shift. Planks that do not stay in place are vulnerable to damage from cracking and splitting.
With solid hardwood, our team delivers your flooring three days early to allow the planks to get used to the humidity levels in your home. Only then do we begin the installation process. This way, the wood has expanded or contracted to a new normal. Another trick of the trade when installing hardwood flooring is to allow just a little bit of space at the outer edge of the room to allow the planks to expand or contract naturally.

Now is the time to learn more about the hardwood selections and services we offer. Simply call <PHONE> or use the convenient on-page form to get in touch with our team. We provide high-end wood flooring for Utica, Clayville, Clinton, Frankfort, Herkimer, New York, and beyond.